You are here
The Rose Room for bereaved families officially opens in the Maternity Department of Mayo University Hospital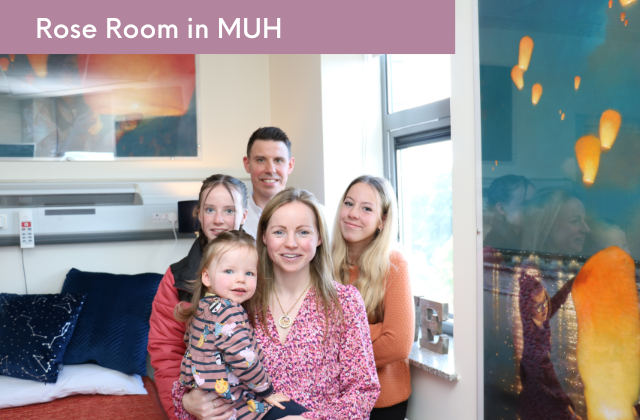 Mayo University Hospital (MUH) has officially opened a designated room in the Maternity Unit for bereaved families. The Rose Room is named in memory of baby Hope Rose Caulfield who sadly died in 2017 aged 9 days old. Hope Rose's parents Sandra and Jonathan Caulfield from Kiltimagh have fundraised significantly for the renovation of this space which will support the hospital in providing comfort and solace to families dealing with loss. The Caulfield family have turned their personal experience of bereavement into an opportunity to help other grieving families by fundraising and supporting the hospital in providing dedicated quiet space for bereaved families.
On Friday, 23 September the Rose Room was formally opened - the renovated room has been in use since 2019 but the official opening was delayed due to the COVID-19 pandemic.
Andrea McGrail, MUH Director of Midwifery said; "On behalf of Mayo University Hospital I want to thank Sandra and Jonathan for their commitment to this project; for their fundraising and for engaging with the hospital so passionately to make the Rose Room such a beautiful place. It is a calm and quiet room, with a wonderful painted mural which depicts children releasing lanterns on a beach, evoking light and hope and the forever bond of siblings.
"Unfortunately in the Maternity Unit, some families will experience pregnancy or infant loss and it is so important to have a quiet and comforting place in which families can prepare for the difficult journey they are on.
We also want to say a huge thank you to the community of Mayo and further afield, who have contributed to the various fundraising initiatives to renovate the Rose Room."
We wish to also acknowledge the incredible commitment our staff have shown to this project."
Sandra Caulfield said, "With great love comes great sadness and Hope Rose was one of my greatest loves. I will hold her forever  in my heart until I hold her in my arms."
The article above is specific to the following Saolta hospitals::
Mayo University Hospital (MUH)