You are here
Saolta staff supporting UNICEF's Childhood Immunisation Programme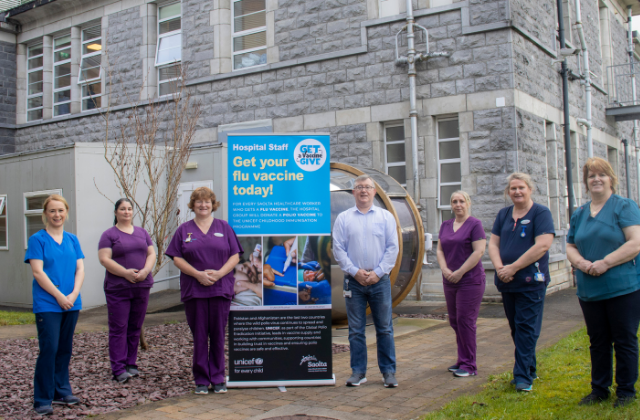 This year staff working in hospitals in the Saolta Group are supporting UNICEF's Childhood Immunisation Programmes through the 'Get a Vaccine, Give a Vaccine' flu initiative.
For every member of staff who gets a flu vaccine, the Saolta Hospital Group will make a donation to help vaccinate one child against polio. This supports UNICEF in their work towards global polio eradication which includes Pakistan and Afghanistan, the last two countries where the wild polio virus continues to spread and cause paralysis among children.
Paul Hooton, Chief Director of Nursing and Midwifery and lead for the rollout of the staff flu vaccination campaign said, "I am delighted that we are in a position to take part in the 'Get a Vaccine, Give a Vaccine' once more. I strongly encourage all members of staff to get their flu vaccine early so that they are protected as soon as possible. The flu vaccine provides protection for our staff, our patients and our families.
"Immunisation is key to protecting us and those around us from many serious and potentially deadly diseases and this has really been brought home to us this year. Polio has been eradicated in most countries because of childhood immunisation programmes and we are delighted to be able to help UNICEF in their efforts to supply polio vaccines safely and support the life-changing impact that vaccines can have for children on a global scale."
UNICEF Ireland Executive Director Peter Power appealed for the support of Saolta healthcare workers at a time when the COVID-19 pandemic has heavily disrupted childhood vaccinations in the developing world. "UNICEF provides 45% of the world's vaccines for children under five. We do this because no child should die from a vaccine preventable disease. The COVID-19 pandemic has put existing childhood vaccination programmes at risk, and now we desperately need to get children the critical protection they need from life-threatening diseases like polio," he said.
"UNICEF Ireland's 'Get a Vaccine, Give a Vaccine' campaign gives healthcare staff the best chance of maintaining full health this flu season, as we work on through the COVID-19 pandemic. And, by supporting this programme, you can ensure that children in need receive life-saving vaccines. It's a win-win," he added.
Photo Caption: Staff at Roscommon University Hospital 
The article above is specific to the following Saolta hospitals::
Roscommon University Hospital (RUH)