You are here
The savage loves his native shore exhibition opens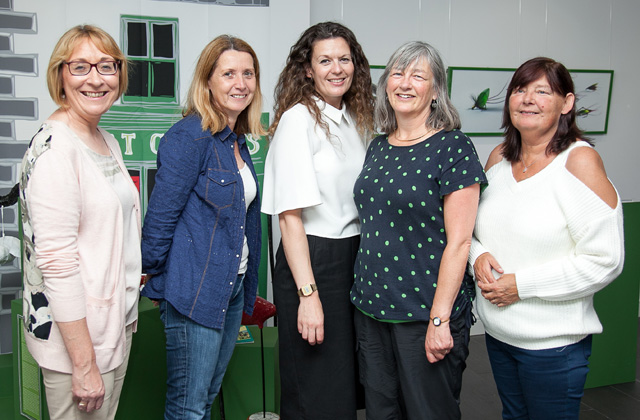 James C. Harrold, Galway City Arts Officer officially launched Galway University Hospitals Arts Trust exhibition The savage loves his native shore in the Institute for Lifecourse and Society, NUI, Galway for Galway International Arts Festival on Saturday July 16.
Participating artists, friends, family and hospital staff all gathered to celebrate their achievements as a community within a healthcare setting.  
The arts programme has humanized the clinical setting for everyone. Marie Lane, Health Care Assistant said it got everyone talking and when Dr. David Lappin opened the first exhibition at Galway Arts Centre he stated that it provides healthcare professionals with another level on which to engage with patients. In has helped people escape their worries and clinical confines and when Marielle MacLeman encouraged Christy Reid to take his brush for a walk just weeks before the Arts Festival exhibition, Christy said that, actually, he thinks that his brush takes him for a walk. The programme has enhanced time outside dialysis too , and participants are painting and creating at home and often with their families.  Artworks have become precious legacies, and when a daughter called the Arts Office for the photographs her Dad had taken with his grandchildren she said that it was like a ripple effect. 
The exhibition continues in the Institute for Lifecourse and Society until July 23 and the Arts Corridor UHG until August 29 10am to 6.00pm daily.
Pictured above are Ann Cogrove, Chief Operations Officer at Saolta University Health Care Group, Fiona McHugh, Deputy General Manager Mayo University Hospital, Marielle MacLeman, Artist Galway University Hospitals Arts Trust, Pat O'Brien Chairperson Arts Committee GUH and Siobhan Connolly participating artist and former patient Unit 7.
The article above is specific to the following Saolta hospitals::
Merlin Park University Hospital (MPUH)
University Hospital Galway (UHG)