You are here
Sligo University Hospital Garden Club partners with Sligo Leader and the Organic Centre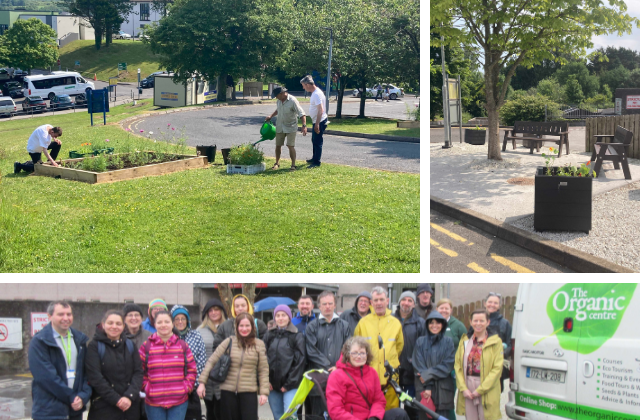 Sligo University Hospital (SUH) has partnered with Sligo Leader and the Organic Centre to introduce a year-long Garden Project involving some minor gardening work throughout the hospital. This project is part of the hospital's Green Campus Programme and will focus on increasing biodiversity on the site as well as enhancing outdoor spaces at the hospital.
The recently published HSE Climate Action and Sustainability Strategy outlines the HSE's plan to tackle climate change and biodiversity loss and this project is one of a number of initiatives undertaken by Sligo University Hospital's Green Campus Committee. We all have a role to play in responding to climate change and biodiversity loss and this project in SUH is already delivering benefits to the participants, staff, patients and visitors who are enjoying the beautiful green areas in the hospital.
The project consists of approximately 15 community volunteers, running from Spring to Autumn and lead by Tutors from the Organic Centre based in Rossinver, County Leitrim. The volunteers undertake various gardening activities such as planting, weeding, pruning, and preparing planter boxes for winter. The project is funded by the HSE's Climate Action and Sustainability Office and Sligo Leader Partnership Company.
Georgina Kilcoyne, Deputy Hospital Manager SUH, said, "We are delighted to be collaborating with Sligo Leader and the Organic Centre on this year-long project. Our main focus is always on patient care and getting our patients back to their full health potential.  International studies have shown that hospital patients with a view of greenery recover more rapidly, and require less pain medication and therefore it's a priority that we respect and care for our environs. The garden is an inclusive space that will provide that all-important connection to plants and gardens and support the mental, physical and social health of our community."
Geri Bruce, Community Development Officer with Sligo Leader Partnership Company (SLPC) said, ''We are delighted to be partnering with Sligo University Hospital for this project. SLPC is the local development company for County Sligo. The Sligo Garden Club is part of the community development work of the company delivered through the Social Inclusion Community Activation Programme (SICAP). This programme targets those at risk of social exclusion and promotes engagement in community activities. Gardening and horticulture are very popular. Participants learn useful skills from the excellent tutors involved and always have a great time and a laugh at every session. It's good to see hospital staff and patients appreciating the work too!"
Jimmy White of The Organic Centre said, ''We are delighted to be taking part in this project, this initiative brings together staff and the community and gives them an opportunity to get to know one another. The Organic Centre is a membership organisation which supports individuals, families, and communities to learn more and get involved in environmental issues. Engaging with nature is good for the mind and body and plants give us a sense of connection. Work is well underway and will continue into the late autumn."
The article above is specific to the following Saolta hospitals::
Sligo University Hospital (SUH)