You are here
Sligo University Hospital to roll out the Irish National Orthopaedic Register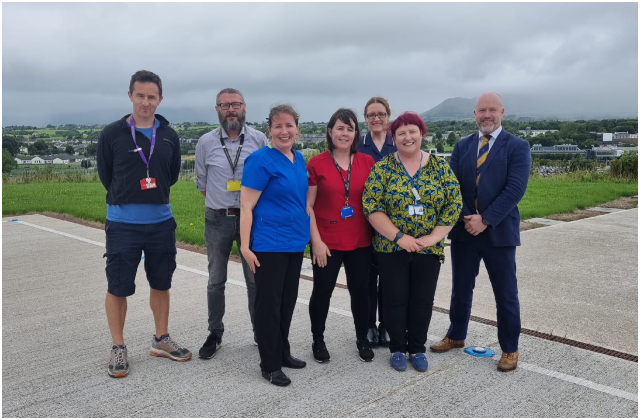 The National Office of Clinical Audit (NOCA) is pleased to announce that Sligo University Hospital (SUH), which is part of the Saolta Hospital Group, has become the 18th hospital in Ireland to roll out the Irish National Orthopaedic Register (INOR). The aim of this initiative is to monitor and improve the quality of care for individuals receiving joint replacement surgery in Ireland.
INOR is a secure, web-based, real-time system which provides a national electronic register of patients receiving joint replacement surgery in Ireland. Elective orthopaedic hip and knee replacement records will now be available nationally in a central register for the first time. The register will collate information from Sligo and will support early detection of implant performance and improve the efficiency of the recall and review process.
Mr John Kelly, Clinical Lead for the INOR Project in Sligo University Hospital said: "The INOR is a great development for SUH. Sligo is now at the forefront of Arthroplasty use in Ireland and this leverages emerging technology and infrastructure to enable better surgical outcomes for our patients."
Following patient consent, the INOR will collect information electronically at pre-operative, surgical and post-operative assessment stages, from patients who are undergoing joint replacement surgery. This will in turn support early detection of implant performance and improve patient experience with their implant over a longer time. 
Mr James Cashman, National Clinical Lead for INOR welcomed the introduction of INOR to Sligo University Hospital. He highlighted the "important contribution INOR makes to audit and good clinical governance, as well as allowing us to expedite notifying patients in the unlikely event of an implant recall occurring."
Over the past three months, much work was undertaken by the local SUH implementation team for INOR in conjunction with the INOR national team to ensure implementation readiness across all relevant areas of Sligo University Hospital. 
Gráinne McCann, General Manager of Sligo University Hospital welcomed the implementation, saying "We are pleased to formally become part of this national register so that we can continuously monitor and improve services we provide to our patient, ensuring quality standards of care within our services."
INOR went live in May 2016 and is managed by NOCA, in conjunction with the HSE Office of the Chief Information Officer and clinically supported by Irish Institute of Trauma and Orthopaedic Surgeon (IITOS). Roll-out of INOR to the remaining public elective orthopaedic surgery sites is underway and will be completed by early 2023. Implementations of the private hospital are also under way.
Photo Caption:
From left: Micheál Bailey, Irish National Orthopaedic Register; Farnan Golden, IT; Aine Duffy, Arthroplasty Nurse Specialist; Caroline Quinn, CNM3 Perioperative Directorate; Ruth McManus, CNM 2, PAC; Michelle Gilroy, CNM2, TQIP; and Mr John Kelly, Orthopaedic Consultant Clinical Lead.
The article above is specific to the following Saolta hospitals::
Sligo University Hospital (SUH)