You are here
UHG team nominated as finalists in HSE Excellence Awards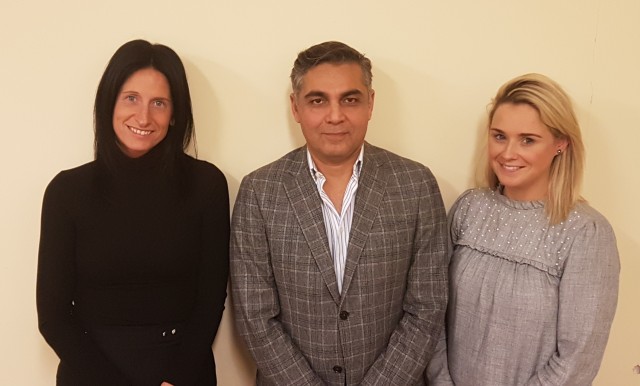 The team behind UHG's 'Serum Eye Drop Programme' has been nominated as a finalist in the National HSE Excellence Awards, which take place in Farmleigh House on Thursday, December 14th. More than 300 projects were submitted to the awards programme, out of which 11 were nominated as finalists. The 'Serum Eye Drop Programme' was developed in the Galway Blood and Tissue establishment of University College Hospital Galway and provides routine and emergency blood and blood product services to GUH and hospitals in the surrounding area. The programme is the only hospital-based laboratory in Ireland with a 'Good Manufacturing Practice' license to produce Serum Eyedrops. 
The serum eyedrops are used to treat patients with a range of eye defects such as burns, Sjorens Sydrome, graft versus host disease and severe dry eye. The product has been reported to alleviate pain in and behind the eye, improve vision and greatly improve quality of life for these patients, many of whom are young adults. According to Dr. Amjad Hayat, "Just this month we produced serum eyedrops for a 25-year-old patient who developed severe Graft Vs Host Disease following a bone marrow transplant earlier this year. Her consultant felt she was at risk of losing her sight without this treatment. We provide a service to Irish patients' that is not available anywhere else in the country and without the hard work and dedication of the staff involved in this programme patients would have to avail of the service abroad."
Chris Kane, General Manager of Galway University Hospitals added, "GUH has been granted €8 million for construction of a new laboratory facility and it is hoped to move into this facility in early 2019.  The new building is much larger than the current facility and contains a large controlled environment.  This will allow for further expansion of the programme and allow GBTE to produce Serum Eye drops for every hospital in nationally".
Maurice Power, CEO of the Saolta University Health Care Group stated: "As there is no other site in Ireland manufacturing this product, all aspects of the procedure from patient assessment and acceptance, donation, production release and follow-up has been devised entirely by the team here in GUH. We are enormously proud of this unique programme here in the Saolta Group. It has huge potential which we hope to develop in the very near future."
The aim of the Health Service Excellence Awards is to encourage and inspire people to develop better services that result in easier access and high quality care for patients and to promote pride among staff in relation to our services.  The Awards also aim to highlight the many achievements that take place across a range of staff groups and teams, services and locations, and to celebrate success and promote shared learning for the benefit of other services.
The Awards ceremony will take place in Farmleigh House, Phoenix Park, Dublin on Thursday, December 14.
Photo caption
Margaret Tarpey, Chief Medical Scientist Galway Blood and Tissue Establishment/Laboratory Manager; Dr. Amjad Hayat, Consultant Haematologist, Galway Blood and Tissue Establishment; Aoife Conroy, Medical Scientist/Operations Manager of Serum Eye Drop Programme GUH
The article above is specific to the following Saolta hospitals::
University Hospital Galway (UHG)