Hospital Location:
Merlin Park University Hospital
Orthodontic Department Unit 9b
Galway
H91 N973 
Telephone: 091 775603
Email: orthodontics.mpuh@hse.ie
What is orthodontic treatment?
Orthodontics is a field of dentistry concerned with the growth and development of the teeth, jaws and face. Treatment includes the correction of dental and facial abnormalities. The overall aim of treatment for patients is to provide a healthy, functional bite and improving dentofacial appearance.
About us
The Orthodontic service within the Saolta University Health Care Group is divided into two regions West and Northwest with two designated hubs at Merlin Park University Hospital (MPUH) and Sligo University Hospital (SUH).  The service operates hub and spoke type models. The hub at SUH provides a satellite service to Letterkenny University Hospital and Primary Care centres at Markievicz House, Sligo and St Conal's, Letterkenny.
The hub at MPUH provides a satellite service to:
Mayo University Hospital
Roscommon University Hospital
Primary Care Centres: Tuam Primary Care Centre, Claremorris Primary Care Centre
The catchment area for this service includes the counties of Galway, Mayo and Roscommon. The department was opened in January 1994 and has been treating the patients of Galway, Mayo and Roscommon since then.
Orthodontic Consultants:
Team members at Merlin Park
Our team consists of the following:
3 Orthodontic Consultants:
Dr Lorna Dobbyn-Ross
Dr Triona Fahey
Dr Niamh O'Rourke
3 Orthodontic Specialists
1 Dentist with a special interest in Orthodontics 
1 Orthodontic Therapist
Our Orthodontic nursing team lead by our senior dental nurse Ms Martina McNamara
Our Orthodontic Administration team
Clinic Types
Patients are seen for assessment and diagnosis, advice and second opinions. Patients are also seen for treatment if they fall into the eligibility criteria laid out by the Department of Health.
As an orthodontic team we provide a range of treatment including straightening of crowded, misplaced and unerupted teeth. We also provide more specialised care for patients with complex medical and dental conditions including multiple missing teeth, cleft lip and palate and jaw discrepancies which require multidisciplinary input into their care.
We work closely with the Oral and Maxillofacial team in University Hospital Galway and visiting teams from Our Lady's Hospital Crumlin and rely on their surgical input for many of our patients.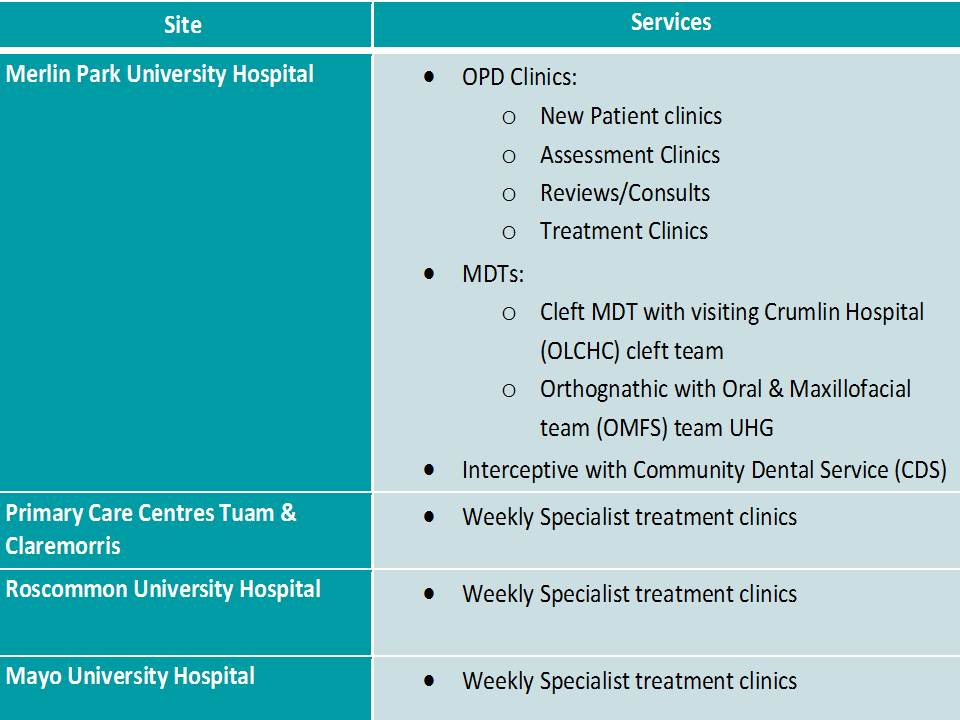 Further Information
Click on the links below for further details.
Information for referrers
How to refer?
Referrals made must be on a nationally standardised referral form, which can be found here. Only patients under 16 with excellent dental health, free of dental disease, will be accepted for referral and eligibility for treatment is graded using the IOTN (HSE Modified) Guidelines.
Waiting time for consultations?
We aim to see all referrals within 3-6 months of receiving them into the department.